Every day our Security Guards and Personnel go to their posts, whether it's a Hospital, School Campus, Condominium, Commercial Office or retail space. They valiantly show up ready to help, protect, and serve.
We'd like to share some of their stories…
---
Security Team: Hartly, Faqeerzada, and McNeil
While on patrol, security discovered an unconscious Caucasian male in a bathroom stall. Paragon Shift Supervisor Andrew Hartley and Paragon Security Guard Mohammed Faqeerzada managed to pull the male out of the stall and immediately began chest compressions. Three nasal spray cartridges of Naloxone were administered, but the male remained unconscious. S/S Hartley and S/G Faqeerzada continued to trade off with chest compressions, and the SOC Operator called 911 to have paramedics attend the location.
S/S Hartley and S/G Faqeerzada requested additional assistance. Nathaniel McNeil, Security Site Manager, attended with additional Naloxone. The male was found to be breathing but was still unconscious, with his face and lips turning blue. S/S Hartley and S/G Faqeerzada stopped the chest compressed as Nathaniel McNeil administered another dose of Naloxone nasal spray. Seconds later, the male regained consciousness. Paramedics arrived at the location shortly after that. As a result, S/S Andrew Hartley, S/G Mohammed Faqeerzada and Nathaniel McNeil have been recognized for providing life-saving measures.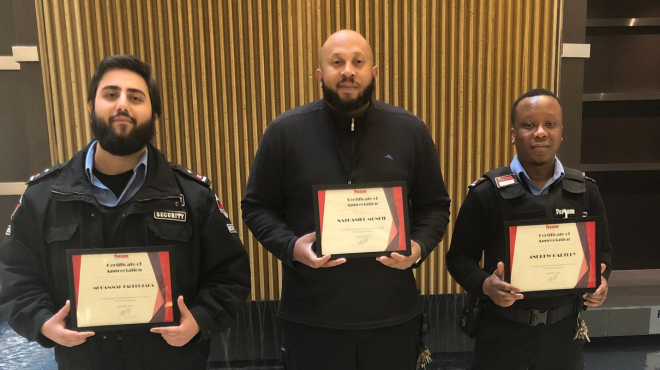 Photo from left to right: Mohammed Faqeerzada, Nathaniel McNeil, Andrew Hartley.
---
Security Guards: Komadowski, Albataineh, Bamra, and Singh
One winter afternoon, a patron of Dixie Outlet Mall collapsed suddenly, striking his face on the floor and causing his nose to bleed profusely.
S/G Albataineh was the first on the scene. He immediately called for backup and the medical bag. Komadowski, Bamra and Singh responded shortly afterward. The team sprang into action; the victim's vital signs were absent. Albantaineh provided CPR and also used a defibrillator to obtain a heat beat. Crowd control, escorting of EMS and comforting of the victim's daughter was provided by other team members. EMS transported the man to a local hospital, where he is expected to recover fully.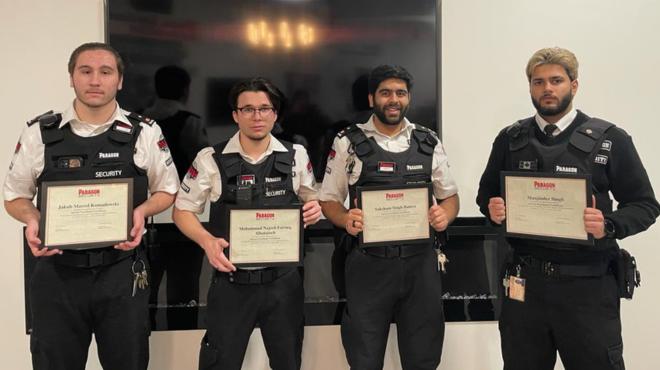 Photo from left to right: Jakub Komadowski, Mohammed Albataineh, Saksham Bamra, Manny Singh.
---
Site Supervisor: O'Brien
Anthony O'Brien, the Site Supervisor of 525 University Avenue, was contacted by a tenant regarding a mentally ill individual in the lobby of the building holding three laptops in his hand and an unusual attire with no shirt on but a lab coat and pants.
Upon investigating, it was determined that the individual had escaped from a neighbouring hospital as he still had a hospital wristband on at the time. When S/S Anthony approached the individual while maintaining a safe distance, it was apparent that the individual would not comply. The individual attempted to assault Anthony physically. However, Anthony dodged some attacks and warded him off the site. After placing a 911 call, the individual was later apprehended by Toronto Police southbound on University near King St.
Anthony used his training to the full extent by attempting to de-escalate the situation and to ensure personal safety and the safety of others observed.
---
Security Team: Chaudhary, Legaspi, Bennett, Dhakan, Zvorygin, and Aggarwal
While on patrol, Commerce Court Security noticed a male individual engaging in a prohibited activity. Upon being approached by security, the individual became verbally aggressive toward the responding units. Security personnel attempted to de-escalate the situation with their tactical communication; however, the individual refused the leave the premises. It was then noted that the individual laid down and refused to cooperate with security. Security ensured patron safety was observed and kept visuals of the individual as he attempted to harm the staff physically. The guards cornered him off till Toronto Police attended the scene to identify later the individual to have had prior breach warrants from DRPS (Durham Regional Police Services). He was immediately arrested and handed over to DRPS, who are very pleased with Commerce Court Security calling it in.
It shows that the guards were well trained to de-escalate the situation even when individuals such as the one they dealt with escalated regardless. Great work!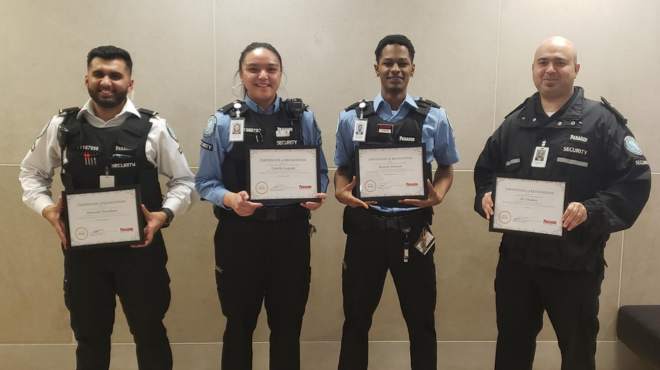 Photo from left to right: Devansh Chaudhary, Camille Legaspi, Ricardo Bennett, Ali Dhakan; Missing – Sergey Zvorygin and Tanush Aggarwal.
---
If you are ready to jumpstart your career in security, check out our careers page.
Join a booming industry! With ten years as one of Canada's Best Managed Companies, a place in the Hall of Fame of Canada's Most Admired Corporate Cultures, being named Best Employer by Forbes Magazine for three years in a row, and winning the OSPA's Outstanding Contract Security Company Award, Paragon is one of the fastest-growing companies across Canada. Be sure to follow and read Our Blog, to learn more about Paragon and the exciting world of security.