Are you looking for a rewarding career that can make a real difference in people's lives? Have you considered becoming a healthcare security professional? These dedicated individuals ensure the safety and well-being of patients, visitors, and staff in medical facilities across the country.
But what exactly is healthcare security, and how does it differ from other types of security jobs? In this article, we will explore the unique role of healthcare security guards, their requirements, typical duties, and why pursuing this field might be right for you.
What is a Security Healthcare?
Healthcare security is a specialized field that focuses on ensuring the safety and protection of healthcare facilities, patients, staff, and visitors. Healthcare security guards are responsible for maintaining a secure environment within hospitals, clinics, nursing homes, and other medical facilities.
Unlike traditional security jobs that may require only basic training in surveillance or access control techniques, healthcare security professionals must have advanced knowledge of emergency response procedures such as fire safety codes or disaster management plans. They are trained in de-escalation techniques for handling potentially volatile situations involving patients or visitors who may be agitated or confused. And, they also need to be familiar with HIPAA regulations regarding patient privacy and confidentiality.
The primary role of healthcare security officers is to maintain the safety and security of the patients, employees, and visitors. They do this by monitoring CCTV cameras and conducting regular patrols through various areas of the building.
Security Healthcare requires individuals who can think quickly under pressure while remaining calm and professional at all times. It's a challenging yet rewarding career path that offers plenty of opportunities for growth both professionally and personally.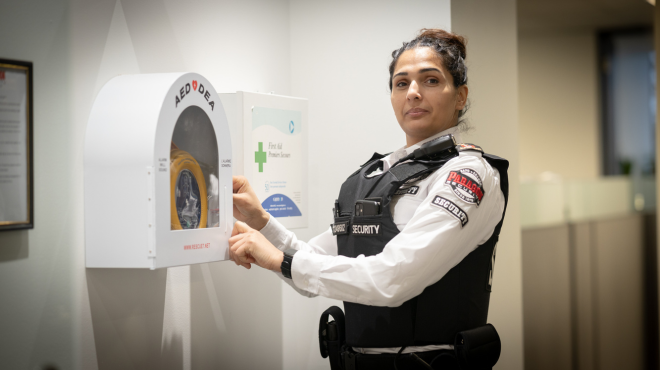 How is a Security Healthcare Professional Unique
Security Healthcare professionals are unique in their role of protecting the safety and well-being of patients, staff, and visitors in healthcare facilities. They must be highly skilled at identifying potential security risks while maintaining a calm and professional demeanor.
One aspect that sets Security Healthcare professionals apart is their specialized training. Unlike other security guards who may receive basic training on how to handle confrontations or suspicious behaviour, Security Healthcare professionals undergo extensive education on topics such as medical terminology, patient privacy laws, and handling emergency situations specific to healthcare environments.
Another way they stand out is through their ability to balance compassion with assertiveness. In addition to providing a secure environment for all parties involved in the healthcare facility, Security Healthcare professionals must also have empathy towards patients who may be undergoing difficult treatments or experiencing emotional distress.
In many cases, these unique skills allow them to diffuse potentially dangerous situations before they escalate into physical altercations or legal issues. They act as front line protectors not just against external threats but also internal ones such as thefts from within the hospital premises or harassment by staff members.
Being a Security Healthcare Professional is an important job that requires exceptional communication skills along with specialized knowledge of both security protocols and health care services which makes it different from any other form of security guard work.
What are the requirements to become Healthcare security guard
First and foremost, applicants must have a security guard license.
Most employers also require candidates to possess some level of experience in the security field. This could include previous work as a security officer or law enforcement official.
In terms of personal qualities, healthcare security guards need to have excellent communication skills, both verbal and written. They should also possess strong problem-solving abilities and the capability to think quickly on their feet.
Paragon Security offers additional training for Healthcare Security Professionals, this includes topics such as:
M.O.R.B (Management of Resistant Behaviour)
Mental Health Awareness
De-Escalation Strategies and Tactical Communication
Sexual and Domestic Violence Response
Active Attacker Awareness
Scene Management and Investigations
Worker Health and Safety Awareness
Legal Authority
Use of Force
And, more.
Becoming a healthcare security guard is an achievable goal for those who meet these requirements and have the necessary training and skills to perform this essential job effectively.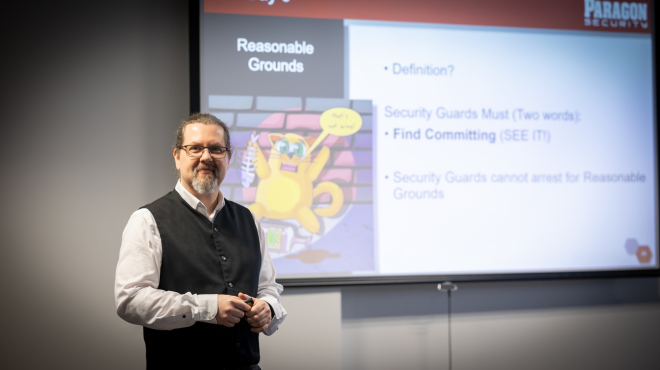 What's a typical day as a Healthcare security guard
A typical day as a healthcare security guard can be both challenging and rewarding. The primary role of a healthcare security guard is to maintain a safe environment for patients, visitors, and staff.
The day often starts with reviewing the shift briefing from the previous team member in order to understand any incidents or special instructions that need attention. Healthcare security guards also conduct regular patrols around the facility, ensuring that all areas are secure and free from potential threats.
In addition, healthcare security guards may monitor access points such as entrances and exits while keeping an eye out for suspicious activities or behaviour. They might also respond to emergency situations like medical emergencies or fire alarms.
Another important component of their job includes assisting with patient care by escorting patients throughout the hospital when necessary. This helps ensure their safety while maintaining confidentiality.
Being a healthcare security guard requires excellent communication skills and an ability to remain calm under pressure. It's definitely not your average 9-to-5!
Next Steps to becoming a Security Professional in Healthcare
If you're looking for a career that allows you to make a real difference in your community while also providing personal growth and development, consider becoming a security guard. It could be the start of an exciting and fulfilling career.
If you are ready to jumpstart your career in security, enrol in basic security training and prepare for the Ministry security guard exam to obtain your security guard license, or if you already have your security guard license, check out our careers page. 
Join a booming industry! With ten years as one of Canada's Best Managed Companies, a place in the Hall of Fame of Canada's Most Admired Corporate Cultures, being named Best Employer by Forbes Magazine for three years in a row, and winning the OSPA's Outstanding Contract Security Company Award, Paragon is one of the fastest-growing companies across Canada. Be sure to follow and read Our Blog, to learn more about Paragon and the exciting world of security.