Whether interviewing a candidate or applying for a job, you must be prepared. Thus, this blog explores six common interview questions and how to answer them, along with examples.
6 Common Interview Questions and Answers
1. What makes you the best Security Guard for this role?
This question assesses the candidate's experience, attributes, and education. A good candidate understands the importance of obeying laws and gets along well with other security officers. They should mention a skill or personality trait that makes them stand out.
Example answer:
I'd approach someone behaving dangerously and ask them to leave the building immediately if I saw them. As soon as they showed threatening behavior and were uncooperative, I would call for more security officers. When I noticed the issue might escalate, I'd contact police officers.
2. Tell me about a time when you faced a difficult situation and how you handled it?
This question evaluates a candidate's risk mitigation skills based on the challenges they face, such as trespassers and thieves, depending on the industry. An excellent candidate would explain the steps they took and the outcome of the situation. Qualities to look for in an answer:
Calmness under pressure
Decision-making skills
Proactiveness
Example answer:
An armed person approached the hotel through the service entrance at my last job. In order to keep guests safe, I identified them before they showed their guns and told them to stay in their rooms. Upon my colleague's notification, we locked all other entrances and trapped the armed person in the lobby until police officers arrived. No guest was injured during this process.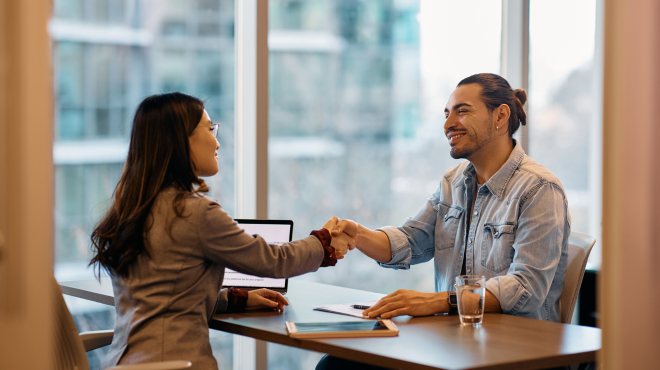 3. What are your strengths as a Security Professional? 
In order to understand a candidate's perspective, interviewers often ask this question. A promising candidate has confidence in their skills and is capable of handling the security officer role effectively. What to look for in an answer:
Self-awareness
Ability to assess their skills
Understanding of how to keep an area safe and secure
Example answer:
My greatest strength is my ability to follow security procedures. I diligently learned the policies of every company I have worked for in the past. I also took several criminal justice courses to learn about my rights and responsibilities as a security officer. The strengths I possess would help create a safe environment for everyone, and I'm excited to work for your organization.
4. How do you stay alert and attentive during a shift?
Depending on the organization, a security officer may work long or late shifts. This question allows interviewers to assess a candidate's strategy for staying alert and carrying out their duties. The answer should demonstrate the following:
Effective strategies for staying alert and attentive
Ability to remain calm
Understanding that staying alert is important.
Example answer:
Before my shift, I will often have a coffee and then use my break time for a healthy snack. If I find my attention declining, I will do something to get my body moving. I find short burst of excercise, or even just doing some stretches, help keep me focused and staying hydrated is important too.
5. What would you do if a fellow security officer slacked off on the job?
This question aims to find out whether a candidate would influence other security officers to remain alert and attentive. What to look for in an answer:
Ability to resolve the situation calmly
Excellent interpersonal skills
Accountability
Example answer:
The security guards I work with should be reminded that maintaining the security of your facility is our responsibility. I would reach out politely if I noticed them slacking off. In addition, I would encourage them to be more attentive. If I noticed their behavior continued, I would inform our supervisor politely. As a security officer, I understand that the actions of one can have a negative effect on others.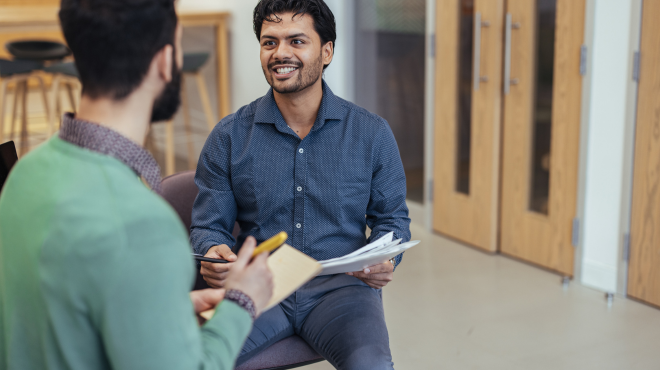 6. How do you spend your downtime while on the job? 
Depending on the location and responsibilities, a security officer may have a lot of downtime, especially at night. In the absence of security threats, they may also have little to do. This question aims to find out what they would be doing during these times. The activity also reveals a candidate's ability to respond swiftly. The key to finding an answer is:
Practical strategies for staying alert
Creative ways to spend downtime
Positive attitude towards work
Example answer:
I'd review your company's employee handbook during my downtime and consider how I'd respond in certain situations. In addition, I would stay hydrated and avoid distractions. I understand you need a security officer who is always prepared and proactive. I believe I am a good fit for the job.
You can expect to answer several security interview questions when you apply for job positions in the security industry. Interviews can be a stressful experience, but you can reduce your stress and anxiety by planning and preparing. If you put some effort into preparing for it, you will feel more confident and relaxed. This will, in turn, lead you to perform well for your big day.
---
If you are ready to jumpstart your career in security, enrol in basic security training and prepare for the Ministry security guard exam to obtain your security guard license, or if you already have your security guard license, check out our careers page.
Learn how to obtain your Security guard license from the Ministry of Ontario.
Improve your communication skills with Coursera