Are you looking for a career that involves protecting people and property? Do you have a strong sense of responsibility and integrity? 
Becoming a security guard in Toronto might be the perfect fit for you. Security guards are essential in maintaining safety and order in various sectors, such as commercial, residential, educational, healthcare, hospitality, and more. However, being a security guard requires proper training and licensing to ensure that they can handle any situation professionally and efficiently. In this article, we will guide you through becoming a security guard in Toronto – from basic training to obtaining your license – so that you can start your journey toward becoming a successful security professional with Paragon – Ontario's largest private security company.
Security Guard Training
Security guard training is the foundation of becoming a security professional. It equips aspiring security guards with the necessary knowledge and skills to perform their duties effectively and efficiently. Basic security guard training covers various topics, such as legal powers and limitations, emergency response procedures, report writing, communication skills, conflict resolution techniques, and more.
The duration of Basic Security Guard Training in Toronto is 40 hours. The first 20 hours consist of online learning modules that cover theoretical concepts. The remaining 20 hours are hands-on practical training conducted in person by licensed trainers.
In addition to basic training, specialized courses are available for specific sectors or industries where additional knowledge or skills may be required. For example, hospital security guards receive healthcare-specific patient care and safety protocol training.
Completing your security guard training is essential to obtaining your license from the Ministry of Community Safety and Correctional Services (MCSCS), which we will discuss next.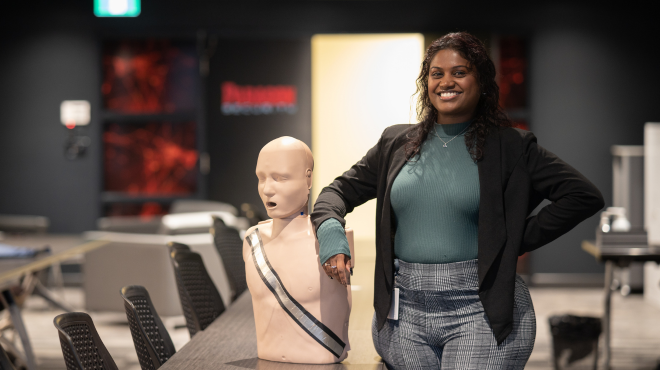 Getting Your Security Guard License
Getting your security guard license is crucial to becoming a security guard in Toronto. It demonstrates that you have the necessary training and qualifications to work in this field. Obtaining your license involves several steps, including completing basic security guard training.
After successfully completing the Basic Security Guard Training course, you must apply for your license through the Ministry of Community Safety and Correctional Services (MCSCS). The application process includes submitting fingerprints for a criminal record check.
Once MCSCS has reviewed your application and you have received your license, you are ready to start working as a security guard in Toronto. However, it is essential to note that maintaining your license requires ongoing education and renewal every two years.
By following these steps and obtaining your security guard license, you are now ready to start your career in the Security industry, like starting as a Security guard or officer.
Sectors Security Guards Are Required
Security guards are required in various sectors to ensure safety and security. A primary sector requiring security guards is the Commercial sector, which includes businesses, Shopping malls, and Retail outlets. Commercial properties often employ security officers to deter thefts and maintain order within their premises.
Another sector where security guards are essential is the industrial sector. Industries such as manufacturing plants, oil refineries, and construction sites require trained personnel who can efficiently handle hazardous materials or situations. Security professionals in this sector must be well-trained in emergency response procedures to prevent accidents or incidents from escalating.
In addition to these two sectors, the residential sector is another area where security guards play a crucial role. Residential or Condominium buildings hire private security companies like Paragon Security for 24/7 surveillance of their property through patrolling and CCTV monitoring systems. This ensures that residents always feel safe without worrying about break-ins or other forms of criminal activity.
Additionally, the Education sector also requires trained personnel on-site for student protection providing 24/7 onsite surveillance, escort services for students with late-night classes, and general population order.
If you are considering a career in Security or Law enforcement, Paragon Security is an excellent start as they provide ministry-approved Basic Security Training and will guarantee your success in passing the ministry exam. Find out more by calling one of our offices near you!
Join a booming industry! With ten years as one of Canada's Best Managed Companies, a place in the Hall of Fame of Canada's Most Admired Corporate Cultures, being named Best Employer by Forbes Magazine for three years in a row, and winning the OSPA's Outstanding Contract Security Company Award, Paragon is one of the fastest-growing companies across Canada.