Do you have a security guard license that is about to expire or a license that has already expired? Whether you're a seasoned pro or just starting out in the field, this article will guide you through the hassle-free process of renewing your security guard license.
Timeline to Renew Your License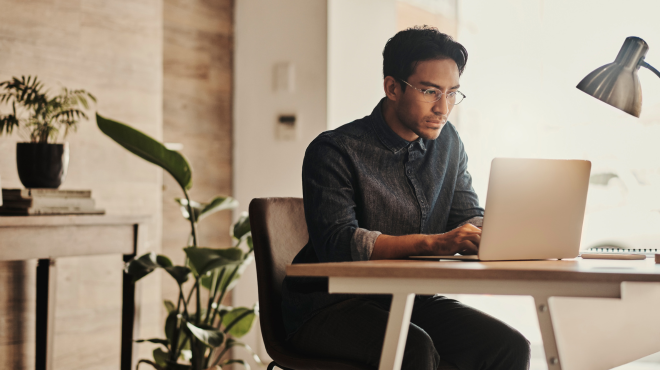 Renewing your security guard license in Ontario is crucial to maintaining your status as a licensed security professional. It's essential to stay on top of the renewal process and ensure you don't let your license expire, as working in Ontario as a Security Guard without a valid security guard license is illegal.
How long does it take to renew your security guard license?
The timeline can vary depending on various factors, such as processing times and submission methods. Generally, starting the renewal process at least 60 days before your current license expires is recommended.
The first step in the timeline is gathering all the necessary documents required for renewal; see the requirements below. Once you have all the required documents, you can submit your renewal application by mail or online. The choice between these two methods depends on personal preference and convenience.
If you choose to submit by mail, allow sufficient time for delivery and processing. On average, it takes around 4-6 weeks for paper applications to be processed by ServiceOntario. Keep this timeframe in mind when planning ahead.
Alternatively, if you opt for online submission via ServiceOntario's website, the process tends to be quicker, with an average turnaround time of 2-3 weeks.
To avoid potential delays or complications during the renewal process, double-check that all the information provided is accurate and up-to-date before submitting your application. Any errors or missing documentation could cause unnecessary setbacks.
Remember: maintaining an active security guard license demonstrates professionalism and commitment within this industry. By staying proactive about renewing your license on time, you'll continue serving our communities effectively while keeping yourself employable without interruption!
Required Documents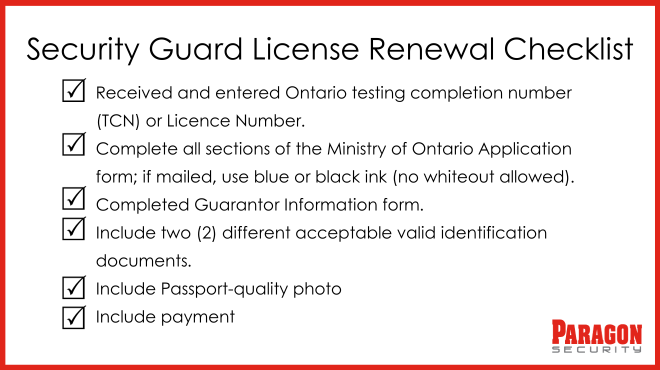 When it comes to renewing your security guard licence in Ontario, there are a few essential documents you'll need to gather. These documents ensure that your application is complete and processed smoothly.
Provide a copy of your current Licence Number or Testing Completion Number (TCN) and expiry date. This serves as proof that you are currently licensed and eligible for renewal.
To verify your identity and eligibility, you must submit two (2) different valid identification documents, such as a passport or driver's license and a valid work permit, Canadian birth certificate, etc. It's crucial that these documents are up-to-date and not expired. (NOTE: Health Cards and Social Insurance Cards are not acceptable identification documents.)
Passport quality photo. You need to have a new image every six (6) years.
Complete the Application form, which includes a Declaration of Conviction and Outstanding Charges and a Declaration of Consent to the Release of Information.
Complete the Guarantor Information form.
Remember, if there have been any changes to your personal information since your last renewal (such as address or contact details), update these on the application form and provide supporting documentation as needed. You must complete the change name form if you have changed your name.
Lastly, don't forget about payment! You must pay a fee when renewing your security guard licence. Be sure to include your payment with your application form.
Ensuring you have all the required documents ready before starting the renewal process can save you time and potential headaches.
Pathway to Success
Renewing your security guard license in Ontario is a straightforward process that ensures you can continue to work in the industry and provide safety and protection to those who need it. Following the timeline outlined by the Ministry of Ontario, gathering the necessary documents, and choosing between mailing or online renewal options, you can easily renew your license without hassle.
Remember that maintaining an active security guard license is essential for anyone in this field. It ensures compliance with regulations and demonstrates your commitment to professionalism and ongoing training. So don't wait until the last minute—start preparing early to complete all requirements on time.
With these steps taken care of diligently, you'll have peace of mind knowing that your license is up-to-date and ready for another successful year as a licensed security guard in Ontario!
---
If you are ready to jumpstart your career in security, enrol in basic security training and prepare for the Ministry security guard exam to obtain your security guard license, or if you already have your security guard license, check out our careers page.