As our world becomes increasingly complex, the need for security personnel has never been more vital. The job of a security guard or professional is to protect people and property from harm, theft, vandalism, and any other potential danger that may arise. While many industries require some form of security measures, certain industries rely heavily on uniformed security guards to maintain safety and order.
In this article, we will explore the various industries that require the services of dedicated security professionals – from commercial logistics to healthcare facilities – and provide insight into what it takes to become a successful security guard.
Logistics Security
Logistics security is a crucial aspect of any business transporting goods and commodities. These industries face unique challenges in maintaining the safety and security of their assets, including cargo theft, vandalism, terrorism, and other forms of criminal activity. To address these concerns effectively, companies hire trained, uniformed security guards to monitor all aspects of their supply chain operations.

Professional security guards must possess excellent communication skills as they are required to deal efficiently with various stakeholders, from drivers to dispatchers. They should also have extensive knowledge of different types of technology used for surveillance, such as CCTV cameras systems installed at warehouses etc.

The role requires individuals who can think independently under pressure and have exceptional attention to detail. Security personnel will monitor access points like loading docks, checkpoints and entrances, ensuring only authorized personnel can enter the premises.

Residential or Condominium Security
Security guards play a crucial role in ensuring the safety and security of residential and condominium properties. The primary responsibility of these security professionals is to monitor the premises, patrol the area regularly, and deter any suspicious activities.

In residential settings, security guards must be vigilant about unauthorized access to buildings or garages. They must ensure that only authorized individuals enter the building by checking IDs and verifying visitors before allowing entry. Additionally, they need to monitor common areas like pools, gyms, and parking lots for potential criminal activity.

Condominiums with high-end amenities require specialized training for their security personnel due to their complex nature. Security officers need training in electronic access control systems such as key card readers.

Moreover, condos may have visitors from other countries who might not speak English fluently; hence it's essential for condo security to communicate effectively with all tenants regardless of language barriers.

Having trained professional security guards provides peace of mind for occupants knowing that dedicated professionals are keeping them safe at all times.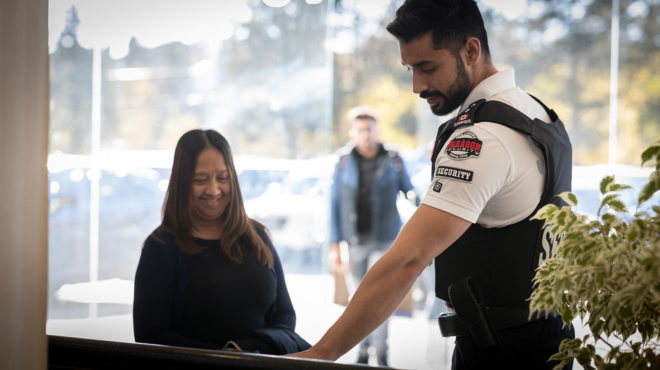 Healthcare Security
Security guards in the healthcare sector protect patients, staff, and visitors from threats such as theft, violence, or vandalism. In addition to physical security measures such as access control and surveillance monitoring, healthcare security guards assist in emergencies. They may be called upon to help with medical emergencies or assist in the evacuation of a facility during an emergency situation.

Due to the sensitive nature of healthcare environments, it is essential for security guards to have specialized training in handling potentially volatile situations involving patients who may be in emotional distress. Healthcare security guards must also remain vigilant at all times while respecting patient privacy laws.

Security guards play a critical role in ensuring that patients receive the care they need, medical staff do the work they need to, and visitors visit without worrying about their personal safety or that of their loved ones.
Campus Security
Campus security is essential to maintaining a safe and secure environment for students, faculty, staff, and visitors. In today's world, educational institutions must take proactive measures to ensure the safety and well-being of everyone on campus.

Security guards play a vital role in providing a visible deterrent against crime while also responding quickly to incidents. They are responsible for monitoring surveillance cameras, patrolling the grounds, checking IDs at entrance points, and responding to emergencies.

With the rise in mass shootings on institutional campuses, there has been an increased focus on active shooter training for security professionals. Guards receive specialized training to help them recognize potential threats before they escalate into violent situations.

In addition to preventing violent crimes from occurring, campus security guards also assist with more routine matters, such as traffic control during large events or helping lost individuals navigate around campus.

Having trained and professional security guards on campus can provide peace of mind for all community members. 
Retail Security
Retail stores are a common target for product loss and vandalism; Retail security guards play a crucial role in preventing theft, deterring criminal activity, and ensuring the safety of employees and customers.

The responsibilities of retail security guards include monitoring surveillance footage, patrolling the store premises, conducting bag checks at exits, and responding to emergencies or incidents that arise on-site. They also need excellent communication skills because they often interact with customers who may have questions or concerns about store policies.

Apart from a physical presence in the store that deters potential shoplifters, retail security guards can also identify high-risk areas where theft is more likely to occur. This information helps management implement targeted measures such as increased staffing levels or changes in layout to reduce risk.

Employing experienced and trained individuals for retail security ensures businesses can operate safely while maintaining customer satisfaction. A strong focus on prevention rather than reaction will help diminish losses due to crime while creating a secure environment for all involved parties.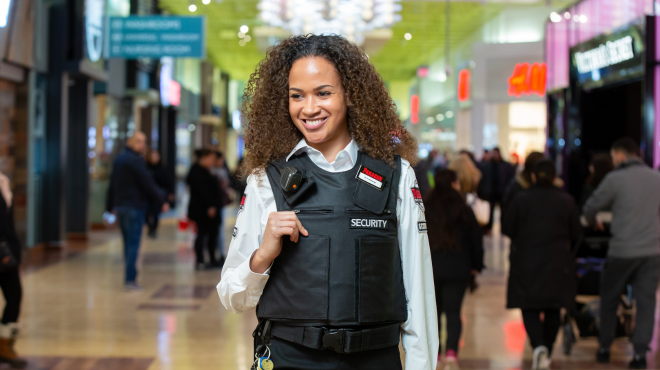 Next Steps to Become a Security Guard
Becoming a security guard or security professional can be an excellent career choice for those looking to protect people and property. The path to becoming a security guard involves completing a Ministry-approved Basic Security Training course, obtaining a Security License, and gaining on-the-job experience.

Working as a uniformed security guard can provide a sense of purpose, knowing that you are making a difference in keeping people safe while offering job stability and growth opportunities within the industry. With proper preparation and dedication, anyone interested in protecting others has the potential to become an excellent security professional.
---
If you are ready to jumpstart your career in security, check out our careers page.
Join a booming industry! With ten years as one of Canada's Best Managed Companies, a place in the Hall of Fame of Canada's Most Admired Corporate Cultures, being named Best Employer by Forbes Magazine for three years in a row, and winning the OSPA's Outstanding Contract Security Company Award, Paragon is one of the fastest-growing companies across Canada. Be sure to follow and read Our Blog to learn more about Paragon and the exciting world of security.