As a veteran, transitioning into society can be challenging and overwhelming. But the good news is that there are plenty of great job opportunities available in the security sector! Not only do these jobs offer stability and growth potential, but they also allow veterans to continue serving their communities in a meaningful way.
In this article, we will explore some of the best job options for veterans in security, as well as education and training grants available to help you get started. Plus, we will share tips on transitioning successfully into your new role and finding work that fits your skills and interests. 
Veteran Jobs
Veterans possess unique skills and experience that make them well-suited for a variety of jobs in the security sector. From security guards to cybersecurity specialists, there are plenty of options available.

One popular job option is working as a security guard. Security guards play an essential role in protecting people and property from harm, making it a great fit for veterans with experience in risk assessment and threat management.

Another job option worth considering is working as a private investigator or detective. These roles require a strong attention to detail, critical thinking skills, and the ability to gather evidence discreetly – all qualities that many veterans possess.

If you have technical expertise, consider pursuing a career in cybersecurity. As more companies prioritize data protection and online safety, demand for cybersecurity professionals continues to grow rapidly.

Ultimately, the key is finding a job that aligns with your interests and strengths while also providing opportunities for growth and advancement within the industry.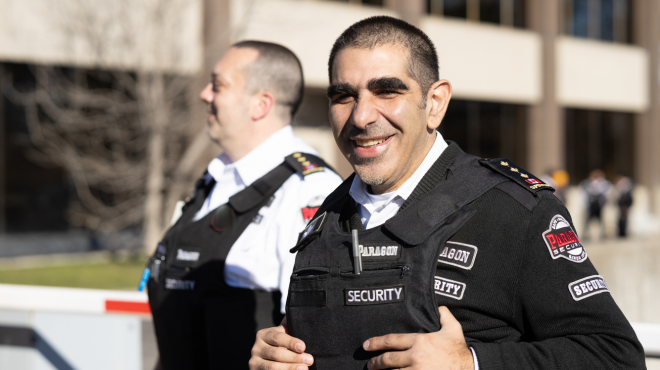 Education and Training Grants
One of the great resources available to veterans looking to transition into a career in security is education and training grants. These grants can help cover the cost of obtaining necessary certifications or degrees that are required for many positions in the security sector.

There are several organizations that offer these types of grants, including the Veterans Program with the Government of Canada and Jobs Ontario. Some companies within the industry also offer their own training programs or tuition assistance programs for new employees, leveraging grants such as the Canada-Ontario Jobs Grant.

It's important to note that eligibility requirements may vary depending on the grant or program being applied for. However, many opportunities exist specifically for veterans who have recently completed their service.

By taking advantage of these education and training grants, veterans can gain valuable skills and knowledge needed to succeed in a career in security. This not only benefits them personally but also helps contribute to meeting a growing demand for skilled professionals within this field.
Transitioning into Work
Transitioning into your role as a security professional can be challenging, especially if you're a veteran who is used to military life. However, there are several ways to make the process smoother and more successful.

Firstly, it's important to understand that the skills you learned in the military can translate well into the security sector. Your training in areas such as discipline, decision-making under pressure, and attention to detail can all be valuable assets in your new job.

Secondly, take advantage of any education and training grants available for veterans. These programs often offer courses specifically designed for transitioning service members looking to enter civilian careers in security.

It's also crucial to network with other professionals in the industry. Join local or national associations related to your area of work and attend conferences or seminars when possible. Building relationships with fellow security professionals can provide invaluable insights and potential job opportunities.

Seek out mentors within the field who have experience working as a veteran-turned-security professional. They may be able to offer guidance on navigating challenges unique to this transition period.

By utilizing these strategies during your transition into a career in security, you'll increase your chances of success while leveraging skills developed during military service.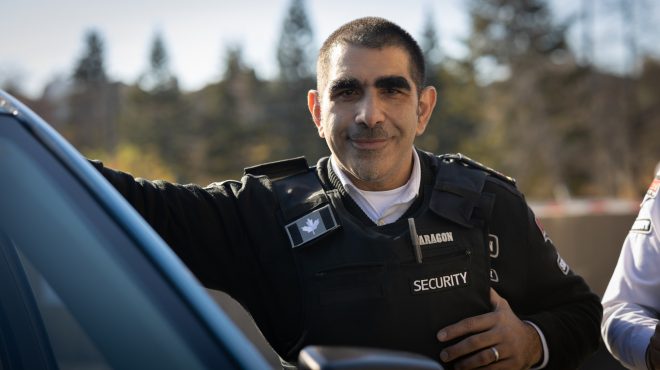 Finding Work in Security
Finding work in the security sector can be a fulfilling career for veterans who have served our country. With the right education and training, transitioning into a security guard or security professional role is very achievable. It's also important to take advantage of mentoring programs, such as Prince's Trust Canada, that are available to help you navigate your transition back into society.

As you begin your job search, be sure to research companies that value veteran employees and understand their unique skill sets. Look for positions that align with your interests and experience, whether it's working in corporate security, public safety, or cybersecurity.

By utilizing resources like education grants and networking opportunities with fellow veterans, you can make yourself stand out as a qualified candidate. Remember that finding the perfect job may take time but staying focused on your goals will ultimately lead you toward success.

Veterans bring invaluable qualities such as leadership skills, discipline and critical thinking abilities to the workforce, making them an asset in the security industry. With determination and perseverance combined with hard work ethics from years spent serving our nation – you will no doubt excel in this field!
If you are ready to jumpstart your career in security, check out our careers page.
Join a booming industry! With ten years as one of Canada's Best Managed Companies, a place in the Hall of Fame of Canada's Most Admired Corporate Cultures, being named Best Employer by Forbes Magazine for three years in a row, and winning the OSPA's Outstanding Contract Security Company Award, Paragon is one of the fastest-growing companies across Canada. Be sure to follow and read Our Blog to learn more about Paragon and the exciting world of security.