Are you a newcomer to Ontario looking for a career that offers stability and growth opportunities? The world of Security offer many options. With the increasing need for safety and protection across industries, security has become an in-demand field with plenty of job openings.
In this article, we'll explore:
Why Security is a great option for newcomers
What skills are transferrable to this field
How you can build a career around your lifestyle
What training and education requirements are needed for a position as a Security Guard.
It's time to start your journey towards becoming a Security Professional!
Why Security is a great option for a Career
Security is more than just a job – it's a calling. If you're someone who values safety and protection, then pursuing a career in security can be an excellent option for you. Not only does this field offer stability, but it also provides plenty of opportunities for growth and advancement.
One of the key benefits of working in security is that there will always be demand for your services, and an opportunity for growth. Whether you're interested in protecting people or property, there are countless industries that require security professionals to keep things running smoothly.
When you speak with those who are already working within the security industry, you will learn they wanted to make a difference in the world. By ensuring that people feel safe and secure, you can help create positive change within your community.
Furthermore, working in security offers flexibility when it comes to scheduling and location. Many companies offer part-time positions, and work to match employees with the best location based on their goals and schedules. And if you prefer not to work at one set location every day, there are often opportunities for mobile or flexible positions as well.
Choosing a career in security provides numerous benefits including job stability, opportunities for growth and advancement, making a difference within your community, and flexible scheduling options – all while providing peace of mind knowing that you're helping keep others safe.
Transferrable skills to a Career in Security
Transferrable skills are those that can be applied across different industries and roles. A career in security is no exception when it comes to the value of having transferrable skills.
One example of a transferrable skill is communication. Security professionals must communicate effectively with both their colleagues and members of the public. They need to be able to de-escalate potentially dangerous situations through verbal communication, as well as write clear reports detailing incidents.
Another valuable skill is attention to detail. In security, small details can make all the difference in identifying potential threats or risks. This level of attentiveness translates well into other careers such as law enforcement, personal security , and healthcare security.
Problem-solving is also an important skill for those working in security. Security professionals often encounter unexpected situations that require quick thinking and creative solutions. These same problem-solving skills can be applied to many other careers where adaptability and critical thinking are key attributes.
Physical fitness and self-discipline play a huge role in being successful in a career in security. The ability to stay focused during long shifts on your feet shows dedication and discipline which will help you excel professionally while staying healthy at the same time.
Before you rule our that you don't have the training needed for security, consider your skills that you do have which can be transferred to your career in security and makes you more attractive to employers and also helps you succeed throughout their entire career!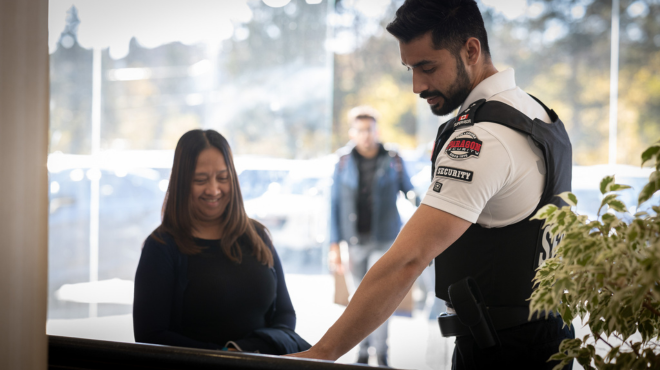 Building a Career around your lifestyle
One of the great benefits of working in security is the flexibility it offers for building a career that suits your lifestyle. Whether you are looking for full-time or part-time work, there are plenty of opportunities available.
As a security professional, you can tailor your schedule to fit your needs and preferences. If you prefer to work overnight shifts or weekends, there are positions available that accommodate those schedules. On the other hand, if you prefer regular business hours, there are also plenty of opportunities during the day.
Another advantage of working in security is the ability to choose where you want to work. There is always demand for skilled professionals across various industries such as logistics facilities, educational institutions, commercial and residential properties.
Moreover, many companies offer benefits such as health insurance and education plans which can help increase your skills and provide opportunities for growth throughout one's career.
Building a career in security allows individuals with different lifestyles an opportunity to earn an income while fitting it into their daily routines – this makes it ideal for newcomers who may be adjusting their lives after moving into Ontario.
Training and Education Requirements for a Security Guard
If you're interested in becoming a Security Guard in Ontario, there are certain training and education requirements that you must meet. Firstly, all Security Guards in Ontario must obtain a valid Security Guard License issued by the Ministry of Community Safety and Correctional Services. This license requires completion of an approved 40-hour basic security guard training course.
In addition to this basic training requirement, some employers may require additional certifications or specialized training depending on the nature of the job. For example, if you'll be working in a healthcare environment, you will need additional safety courses and use-of-force training.
It's important to note that having prior experience or education in law enforcement or security-related fields can be helpful but is not always required for starting positions. However, good communication skills and attention to detail are essential qualities for any Security Guard role.
Investing time and effort into obtaining proper certification and keeping up with ongoing professional development can lead to greater opportunities for advancement within the field of private security.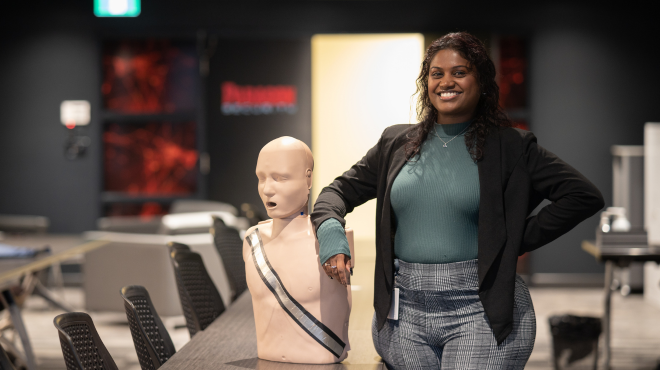 Grow as a Security Guard
The skills you need to become a specialist in your field will be honed as you grow in your role as a Security Guard. In many cases, certification requires a certain number of work hours. These requirements can often be met by your role as a Security Guard.
The Security Guard role can lead to any of the following areas, depending on your aspirations:
Security Manager

CyberSecurity

And more.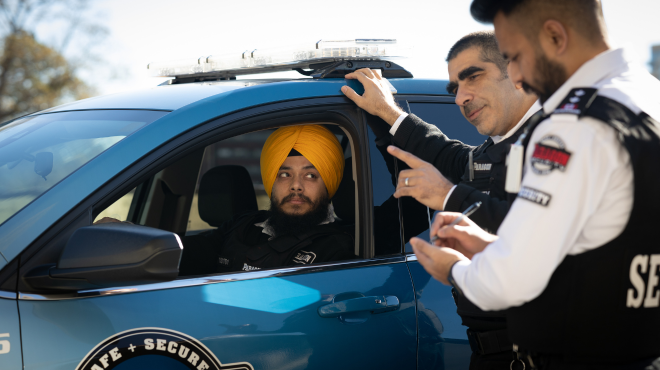 Get Started Today!
As a newcomer, you have the advantageous qualities of experience, determination, perseverance and courage. These invaluable attributes are something that cannot be learned in classrooms alone. Being aware of your capabilities is an ideal way to excel in this career. Security roles can turn out to be extremely rewarding and can offer many chances for development.
Therefore, if security is the path you decide to take, start obtaining your Security Guard license today and get one step closer to achieving your aspirations.
Join a booming industry! With ten years as one of Canada's Best Managed Companies, a place in the Hall of Fame of Canada's Most Admired Corporate Cultures, being named Best Employer by Forbes Magazine for three years in a row, and winning the OSPA's Outstanding Contract Security Company Award, Paragon is one of the fastest-growing companies across Canada. Be sure to follow and read Our Blog, to learn more about Paragon and the exciting world of security.