No matter your role in the security industry, you can never be too prepared for what's to come. Without the proper equipment, it can be challenging or even dangerous to help protect others. That's why it's essential to come prepared with the right security guard equipment. 
The following are seven must-have pieces of equipment every security guard should carry on duty. Whether you're a new or experienced security professional, these tools can help keep you and those around you safe. 
The Importance of Coming Prepared
Having the right equipment at the right moment can make all the difference. As a security guard, you never know what situations might arise while on duty. So being prepared is essential whether handling individuals or responding to emergencies.

Investing in quality security guard equipment can save lives – yours and those around you. The risk of injury increases significantly when performing security duties without the necessary protective gear.
The following will help any security guard arrive at a scene well-equipped and ready to perform your duties safely and successfully.
1. First Aid Equipment
Before medical professionals arrive, basic first aid equipment can save someone's life or prevent further injury. Some essential items to include in your kit are gloves, bandages, gauze pads, antiseptic wipes/sprays, and scissors.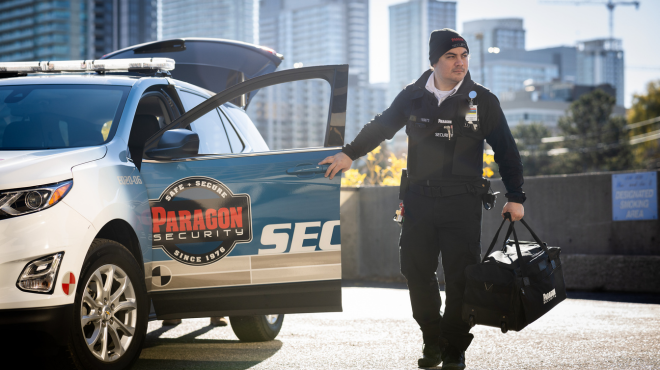 In addition, it's equally crucial for guards to receive training on properly administering first aid. For example, Paragon offers security guards training programs covering CPR and AED use.
2. Handcuffs
Handcuffs are used to restrain individuals who may pose a threat or danger to those around them. Therefore, security guards must choose high-quality handcuffs to withstand resistance and ensure safety during apprehension.

Using handcuffs can be effective. However, the right decisions must be made following relevant laws and regulations. It's important for those who possess handcuffs to be properly trained on when and how to make use of them. At Paragon Security, we train our security guards on proper use of force tactics so they re prepare for any situation. 
3. Baton/Nightstick
These tools are designed to be used as non-lethal weapons. For example, they help break up fights or control crowds by stunning and immobilizing an attacker without causing serious injury. 
Training is essential when it comes to using this equipment properly. Security guards must learn when it is appropriate to use this and the proper execution to do so. Our security guard training includes communication tactics to equip a guard with the skills to de-escalate a situation verbally without needing additional methods; however, use of force theory is also imperative part of a guards training. 
4. Flashlight
A flashlight is vital for any security guard working at night or in areas with low lighting. It allows you to see potential threats and navigate your surroundings more effectively.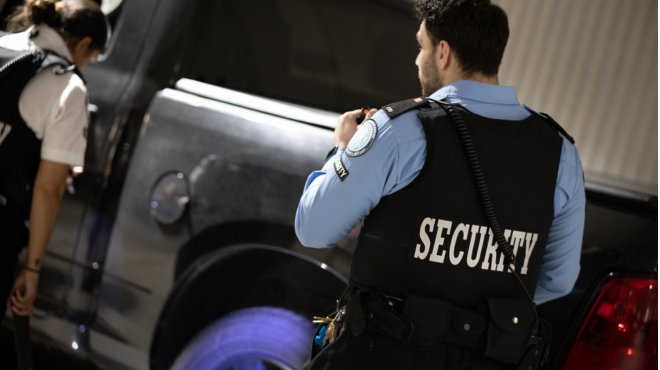 Some flashlights come equipped with features such as strobe lights or built-in sirens which can help attract attention or signal for backup. Having a reliable and efficient flashlight is essential for every security guard.
5. Radio
Radios allow for communication between the guards and their colleagues or superiors. This ensures that everyone is kept up-to-date on any situation that may arise. Security guards can use radios to request backups, report incidents or suspicious activities, or ask for instructions.

Having a radio also means that security guards can receive real-time updates in emergencies where every second counts. This is crucial in preventing harm from happening to people or property.
6. Body Armour
At Paragon, all our guards are provided with body armour. It provides protection against bullets, projectiles, stab wounds, and blunt force trauma. Different levels of body armour are available, ranging from Level I to Level IV. Investing in body armour is essential for staying focused, confident and protected.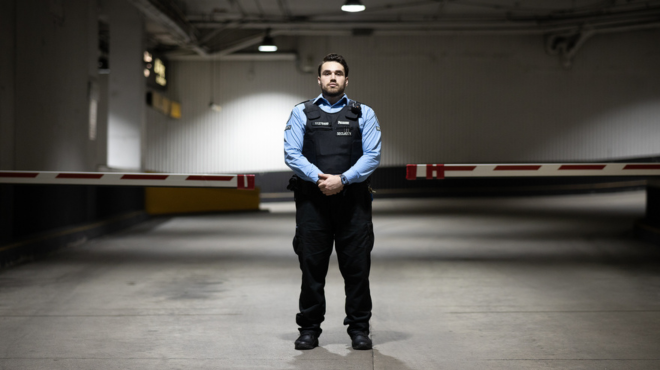 7. Duty Belt
A security guard's duty belt is a portable tool kit, giving the guard easy access to equipment when needed. The duty belt can hold handcuffs, night stick, radio, flashlight and other essential tools required by the security professionals.

A sturdy and well-stocked duty belt is crucial for any security guard. It enhances their efficiency in performing their job while ensuring safety throughout their shifts.
In Conclusion
Being a security guard is a challenging and rewarding. It requires patience, discipline, and the right tools to do the job effectively. With these seven must-have security guard pieces, any security professional will be well-equipped to handle anything that comes their way while on duty.

Remember that having proper training and obtaining the appropriate licence are also important factors in becoming a successful security guard. Safety should always be the top priority for everyone involved – guards and those they protect!
If you are ready to jumpstart your career in security, check out our careers page.
Join a booming industry! With ten years as one of Canada's Best Managed Companies, a place in the Hall of Fame of Canada's Most Admired Corporate Cultures, being named Best Employer by Forbes Magazine for three years in a row, and winning the OSPA's Outstanding Contract Security Company Award, Paragon is one of the fastest-growing companies across Canada. Be sure to follow and read Our Blog, to learn more about Paragon and the exciting world of security.