Are you considering a career in Law Enforcement, Corrections, or Private Security? Or do you have previous Security experience and would like to use it in Ontario? We are going to discuss 5 steps on how to become a Security Guard in Ontario once you obtain your Security Guard license.
Almost every role in Law Enforcement, Corrections, or Security will require a Ministry approved Security License. This includes working as a Security Guard in commercial, residential, healthcare, institutional, private, or personal safety. A security license is also required for many senior security roles that require experience or a license in related fields.
Qualifications for a Security Guard: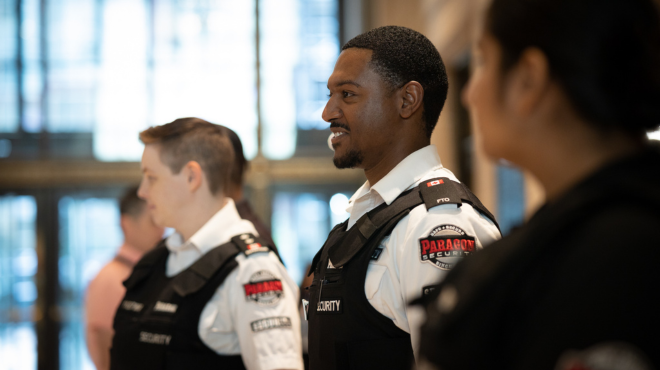 1. Basic Security Training (BST)
New security guards and private investigators must complete a basic training course. Paragon helps by working directly with you to ensure you have all the information you need. After completing the Basic Security Training program, you will have a basic understanding of the Security Industry as well as:
Introduction to the Security Industry

Basic Procedures

Regulations

Health & Safety

Canadian Legal System & Authorities

Communication
Paragon's Basic Security Training program places 99% of registrants in a job. It's almost like saying, "We Guarantee A Job Within Security."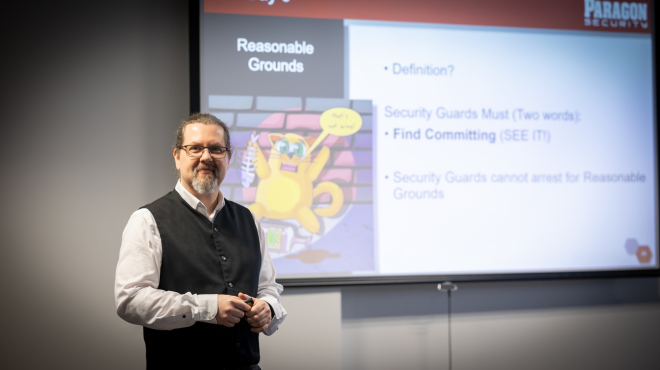 2. Obtain a Training Completion Number
After completing the 40-hour Basic Security Training, you can retake the course or any module for free if you need more explanations. Upon completion of the course, you will receive a complete training number that you will need to register for the Ministry test. Upon successful completion, you will receive a complete training number.
3. Ontario Ministry Mandatory Exam
With your Basic Security Training, we know you will be prepared; it's merely a matter of scheduling a date and time to take the 60-question multiple choice test.
For more tips on preparing for the Ministry exam, see the Ontario Security Guard Study Guide.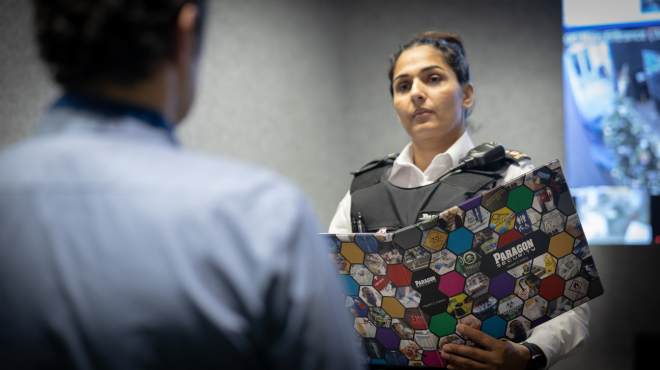 4. Apply for Your Security Guard License
Your Security Guard License can take up to 30 days to process and receive once you have successfully passed the Ministry test. What do you need to apply for?
Your Ontario Basic Security Training completion number

A passport-quality photo

Identification documents that you can legally work in Canada

A completed Guarantor Information form

, signed and dated by your guarantor

Payment, it's $80 for a Security Guard License
You can apply online through Service Ontario  or by mail. 
5. Start Work as a Security Guard
After completing your training and becoming a licensed Security Guard, it's time to put your skills to work. Many locations exist in Retail, Healthcare, Residential, Commercial, Private Events, and Institutional (Colleges and Universities).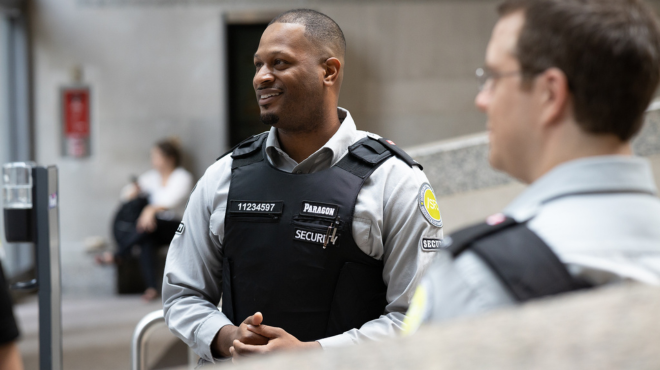 This process may take a few weeks to get your Security Guard License, but it's well worth the rewards and lifetime of opportunities. Curious about what else you can do with a Security Guard License? Check out our other articles: Exploring the Different Types of Security Jobs: Beyond the Traditional Security Guard Role or How to Become a Security Guard in Canada.
If you are ready to jumpstart your career in security, check out our careers page.
Join a booming industry! With ten years as one of Canada's Best Managed Companies, a place in the Hall of Fame of Canada's Most Admired Corporate Cultures, being named Best Employer by Forbes Magazine for three years in a row, and winning the OSPA's Outstanding Contract Security Company Award, Paragon is one of the fastest-growing companies across Canada. Be sure to follow and read Our Blog to learn more about Paragon and the exciting world of security.